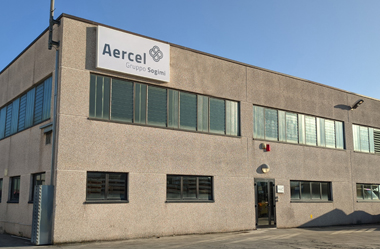 The Aercel's division was founded in 2001 within the SOGIMI Group, a holding company that has been active in plastics engineering since 1951.

Thanks to the enthusiasm and drive for innovation of its managing director Paolo Capanna, AERCEL specialises in thermoforming, i.e: developing three-dimensional objects, of laminating polyethylene to fabric. Right from our very beginnings, our special knowledge has attracted the interest of leading companies in various sectors, with whom we have developed numerous enthusiastic partnerships over the years.
AERCEL works in synergy with customers on projects in the fields of fashion, sports, security and industry,employing highly versatile industrial processes which retain the skill and attention to detail of small-scale productions. Luxury finishes, such as Alcantara suede, leather and velvet, laminated to expanded materials, are the distinguishing mark of outstanding aesthetics combined with great functionality.
With a close eye on innovations in materials and technologies, the technical team at AERCEL is always on hand to advise and inform customers and optimise products right into the last stages of a project.
AERCEL employs continuous moulding machines that can fulfil the most prodigious of needs, but can also accommodate
Enthused with passion and our wealth of experience, at AERCEL, we are always ready to take up new challenges and commit our know-how to the success of new projects.